There are two Venices: Summer Venice ("off-season") and Winter Venice. ("in season").
Summer Venice
Summer Venice, from June through October, is a small, pleasant Florida Gulf Coast city with an easy pace, friendly people, and quiet traffic. Days are long, temperatures are tropical, the sun is hot, the Gulf sea water is as warm as bath water and great for swimming. Beaches are well-attended but not crowded. In fact, everything's uncrowded. It's easy to get tables at restaurants and doctor's appointments. Evenings are mild and pleasant because of the sea breezes. It can be a great time to visit.
Winter Venice
Winter Venice, from January through April, is a bustling Florida Gulf Coast resort, with a busier pace, lots of less-familiar people with northern accents, and bustling traffic. Half the cars have non-Florida license plates, with lots from the Northeast, Midwest and Canada.
Days are shorter (but an hour or so longer than the days "up north"), with mild to warm temperatures broken by the occasional cold snap when nighttime temperatures can descend to the 40s F (4 to 9°C) and even, unusually, to freezing (32°F/0°C).
The Gulf sea water is cool, from refreshing to chilly. Beaches are more crowded, but if you walk for ten minutes you'll easily escape the crowds. Shops and restaurants are busy, and the Venice Fishing Pier, North Jetty and South Jetty are well populated with people fishing.
The months of May and November are somewhere in between. Summer and Winter. Snowbirds —the Northerners who visit only when it's snowy Up North—may stay into May if they haven't returned to their northern homes for Easter. Those coming in November to visit relatives and friends for Thanksgiving may prolong their Florida vacation. A lot more snowbirds come south after the end of northern hunting season.
December is an anomaly, with some visitors coming, but lots of year-round residents flying north for the holidays with relatives and old friends.
High Season—for Prices
Vacation rentals are most expensive in February and March, they can be somewhat less expensive in January and April, and prices drop substantially between May and December. Here's more information on Venice lodgings.
Use the Hotel & Villa Map below to find lodgings in and around Venice, Florida. (Don't see the map? Click here.)
Money
Coming from a suburb of Boston, Massachusetts, where prices are high, I find spending money in Venice, Florida a distinct pleasure.
Prices are lower across the board from groceries, restaurant meals and transportation to rents and medical care, but prices for tourist services are substantially higher in the winter season.
Transportation
Airplane and car are the best ways to get to Venice Florida, but local buses and bikes are good for getting you around the area.
Most people come to Venice Florida by car or by plane (map). Here are the intercity airports closes to Venice:
Airports
Built in 1942 as the 337th Army Air Field, Venice Municipal Airport is a small general aviation airport on the south side of Venice Florida was deeded to the town in 1947.
Today it's used by owners of small prop and jet aircraft, by the Coast Guard, and by flight schools giving lessons in flying aircraft. (Its notoriety is that some of the September 11th terrorists received their early flight training here.)
The closest large airports to Venice for scheduled intercity and international flights, from closest to farthest, are:
—Sarasota-Brandenton International Airport, on the north side of Sarasota, 24 miles (39 km), 45 minutes
—St Petersburg-Clearwater International Airport, south of Tamp, 69 miles (111 km), 1 hour 15 minutes
—Tampa International Airport, 80 miles (129 km), 1 hour 30 minutes,
—Southwest Florida International Airport, in Fort Myers, 73 miles (117 km), 1 hour 30 minutes
—Orlando International Airport, 146 miles (235 km), 2 hours 30 minutes
—Miami International Airport, 207 miles (333 km), 3 hours 45 minutes
Car Rentals
Cars can be rented/hired at any of the airports mentioned above (Sarasota/SRQ is easiest) and also at a few locations in Venice.
Use this handy search box to check rates and availability from 15+ car rental companies all at once:
Buses
Bradenton, Florida, is as close as Greyhound Lines intercity buses come to Sarasota or Venice. More...
SCAT, the Sarasota County Area Transit system, operates local and regional buses on routes to and through Sarasota and Venice. The terminal in Venice is the historic Venice Train Depot, which now serves buses, not trains. More...
SCAT buses 02, 08 and 99 connect SRQ Airport to the Downtown Sarasota Transfer Station, where you can transfer to Bus 17 for the trip to the Venice Train Depot. Departures may be infrequent, and there are many bus stops along the route.
The entire trip by public bus from Sarasota-Bradenton Airport to Venice takes about 2-1/2 hours.
Trains
Trains brought the circus to winter quarters in Venice, but the last train ran in 1992, so there's no longer Amtrak train service to anywhere near Venice.
Many visitors from the Northeast take Amtrak's AutoTrain from Lorton VA to Sanford FL (map), then drive to Venice. The overnight train journey takes you and your vehicle on an 800-mile, 18-hour trip, avoiding the stress of driving Interstate 95, and at least one night's hotel expense. More...
Bicycle
Venice is a great place for bicycling, being mostly flat, with good roads, bike paths, and relatively slow traffic (except on the Tamiami Trail).
There are scenic bike paths along the Intracoastal Waterway and at other locations. More...
Information
VeniceTravelPlanner.com hopes to be your primary source for tourist and visitor information for Venice Florida, but there are many other good information sources as well. (If you're looking for Venice Italy, click here.)
Centrally located on Venice Island, the Chamber of Commerce has information on many Venice-area businesses, and can help with relocation. More...
City Hall, or its website, are the places to go for inquiries about official matters. More...
Venice's excellent public library, part of the Sarasota County Library System, offers library cards at no cost to county residents, and at low cost to visitors. Inter-library loan gives you access to a plethora of books, sound and video recordings, and the library's free Wifi gives you access to the Internet. More...
County government is active in Sarasota County, overseeing its systems of parks and recreation facilities, transportation and such less agreeable but essential matters as taxation. More...
Compared to my hometown of Concord, Massachusetts, Venice's history is short, but no less colorful for all that. The military and—of all things—the circus have played major roles. The historical society keeps track of it all, and makes it available to you. More...
Keeping Venice's trails open and maintained is the goal of this service organization. More...
This non-profit organization works to make Venice a more attractive place to live or visit. Its stellar project was the Venetian Waterway Park. More...
Venice History
John Nolen
John Nolen (1869 - 1937) was an outstanding American landscape architect and city planner between the World Wars. His finest creation, and an excellent example of the interwar Garden City urban design movement, is the city of Venice, Florida.
Orphaned at a young age, Nolen studied finance at the University of Pennsylvania's Wharton School before moving on to Harvard's School of Landscape Architecture, where he studied under Frederick Law Olmsted, Jr., son and successor of the founder of American landscape architecture, Frederick Law Olmsted Sr.
Florida, with its climate similar to that of the Mediterranean, offered Nolen the opportunity to design cities that were attractive, pleasant, efficient and healthful, and that fostered cultural growth.
In 1925, the Brotherhood of Locomotive Engineers invested in the Florida land boom, buying 33,000 acres which included what is now Venice.
Nolen's detailed city plan provided for numerous parks, playgrounds and recreational spaces, a golf course, broad avenues linking the city's various sections and its natural features such as the long, broad beaches along the Gulf of Mexico shore.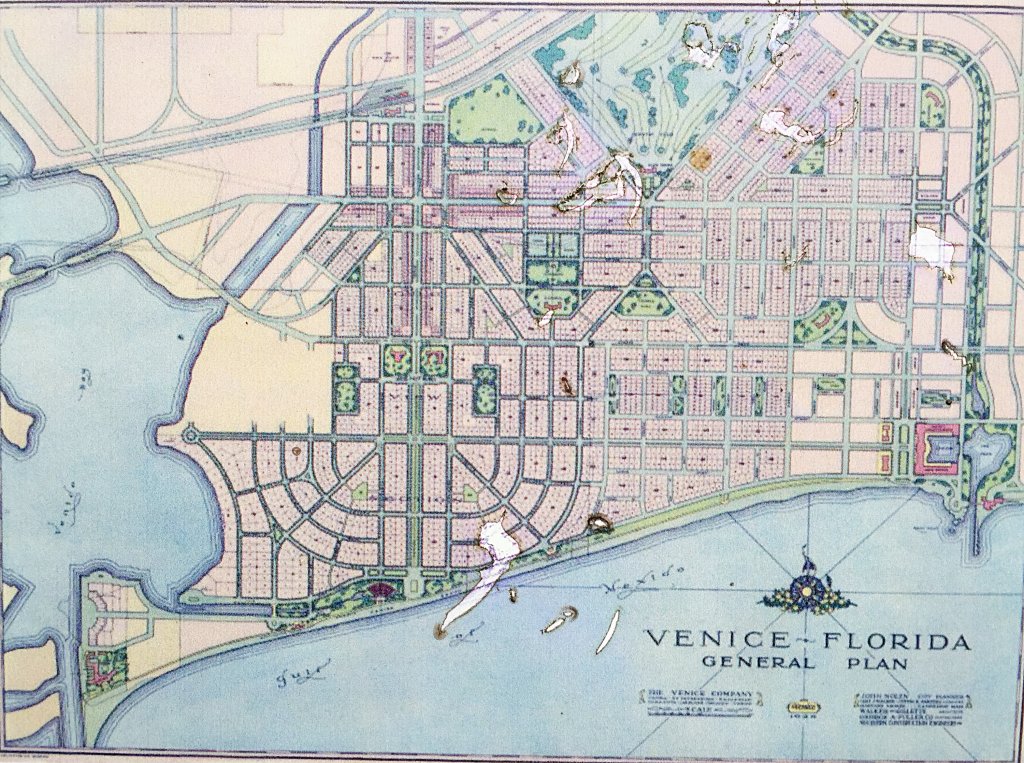 A Civic Center would foster society and culture, schools were planned for education and family, and churches for spiritual tranquillity.
Nolen was largely successful in protecting his plan from the dysfunctional results of unplanned commercial and speculative development.
This idealistic—some would say socialistic—concept from the 1920s has provided a century of fine living for Venice's residents.
For contrast, compare it to the luxury gated real estate communities developed inland from Nolen's original city plan during the past few decades. These golf course communities, developed privately and profitably, provide gracious living for those individuals and families fortunate enough to be able to afford them. Each gated development, separated from the next, is reached by private car. Individual fulfillment is emphasized, while community and society enrichment are largely left to develop without plan, as they may (or may not).
Indeed, when residents of gated communities want to experience charming surroundings, they drive to West Venice Avenue, the heart of Nolen's plan.
Circus in Venice
From 1960 to 1992, Venice was the winter quarters of Ringling Bros. and Barnum & Bailey Circus. Practices, rehearsals, and the final virtually-a-show dress rehearsals were held in the Venice Arena, a huge, rambling barn-like structure off Field Avenue East and Airport Avenue East that stood near Circus Bridge, the southern drawbridge on Venice Island.
When, in 1992, the railroad stopped running as far as Venice, the circus moved its winter quarters north to Sarasota.
Local history and circus buffs made an effort to save and repurpose the Arena, but they did not succeed. The Venice Arena was razed in 2014.
History remains; and not just history. Trapeze star Tito Gaona's Flying Trapeze Academy remains next to where the Venice Arena once stood, visible from the drawbridge, where you can learn how to fly—safely.
At certain times of year, there may also be a circus camp for kids here.
The Circus Museums at the Ringling Museum of Art in Sarasota give you the whole story.
For a superb youth circus show during summers in New England, catch a performance of Circus Smirkus. Its founder and some of its principal staff were trained at Ringling's Clown College when it was in Venice. More...